Restaurants & Bars Valencia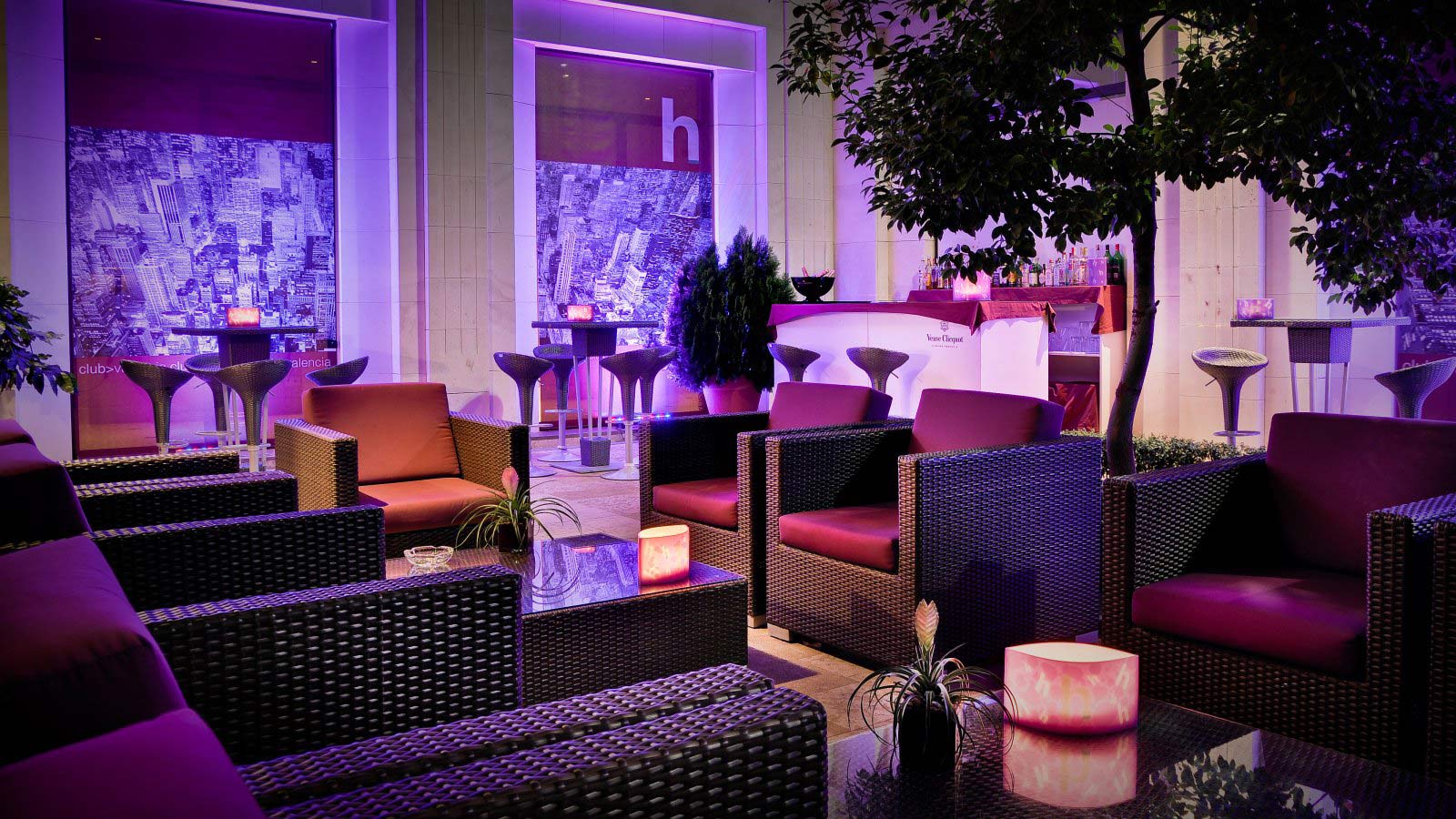 The Westin Valencia provides multiple choices when it comes to business, dining and relaxation opportunities.
Marble-floored corridors lined with contemporary artworks by prominent Spanish artists link the various venues while offering a panoramic view of the garden's lush foliage and lively social scene. The verdant Mediterranean oasis forms the heart of the hotel and each restaurant, bar and lounge boasts its own alfresco terrace.



Rosmarino restaurant is the place to start the day enjoying a delicious breakfast buffet, while the elegant Komori offers Japanese delicacies with a modern touch. Guests can dine and unwind in El Jardí throughout the day with a selection of meals, snacks and fragrant and soothing Jing Teas. Alternatively check out the h club>valencia, the cool tunes and trendy crowd of which have made it one of Valencia's most happening places to enjoy a glass of Champagne, a cocktail or a mixed drink.
ROSMARINO RESTAURANT

A popular spot for breakfast, Rosmarino features a modern interior decorated in soothing honey-hued wood enlivened with aquamarine screens. It is bright, airy and filled with natural light.

Set yourself up for the day with the extensive breakfast buffet which offers local specialties, including Spanish ham, chorizo and Manchego cheese. International guests will find a wide range of cosmopolitan cuisine options.

Start the day on a healthy note with a selection of whole foods, nuts and fresh fruit from The Westin Valencia SuperFoodsRx™ range. Valencia is famed for its oranges, and no breakfast would be complete without a glass of freshly-squeezed, vitamin-packed juice.

SPG members benefit from a 10% discount
Not a SPG member yet? Join now for free »

EL JARDÍ BAR

At lunchtime and in the evening enjoy a choice of inspired dishes prepared by Chef Sergio Alonso. The à la carte menu includes the best of local Spanish cuisine, with highlights including freshly cooked fish and authentic paella from Valencia.

The spacious setting and relaxed vibe of The Westin Valencia's main bar and restaurant provides the perfect atmosphere for revving up for dining during the day or winding down during the evening after a day spent exploring the city or attending meetings.

Located just a few steps away from the restaurants and the hotel garden, El Jardí is a great place to relax over a drink or coffee and enjoy a bite from the menu's selection of light meals which include salads and The Westin Valencia Club Sandwich.

The bar's cozy, split-level interior has a pleasant, country-home ambience. Oversized sofas, leather armchairs, a selection of coffee-table art books and Wi-Fi access invite guests to linger. Settle down and order a revitalizing Jing Tea accompanied by an indulgent slice of homemade cake or a freshly baked pastry.

When night falls the bar's vibe changes as El Jardí draws a lively crowd looking to relax with an after-work drink or linger on into the night. Perch yourself on a stool at the bar to get a close-up view of the talented mixologists working their magic.

The bar's action spills out into the lush oasis at the heart of the hotel meaning guests can enjoy a drink with friends amidst lush flowering plants and under a canopy of towering date palms.

SPG members benefit from a 10% discount
Not a SPG member yet? Join now for free »

h club>valencia

Decorated with large leather armchairs, dramatic black and white photos of emblematic American skylines and back-lit panels, h-club>valencia is a chic and comfortable spot for guests to meet and mingle.

Whether you're joining up with friends before a night out, celebrating a successful meeting with colleagues or treating that special someone to a nightcap after dinner, this stylish venue is ideal. The h club>valencia channels Valencia's buzzing nightlife scene with a cool musical backdrop which, as the night progresses, segues into more up-beat tunes.

Behind the bar a team of experienced bartenders ply their trade, expertly mixing classic cocktails such as the Cosmopolitan and Martini. Other refreshments, including Champagne, beer and mixed drinks are all available, and served with a tempting array of bar nibbles.

Outside in the artfully illuminated garden terrace, wicker sofas and armchairs create a magical environment in which to rest, relax and sip a cool drink.

Opening Hours

THE SPACE IS CLOSED FOR A RENOVATION ON 2ND QUARTER OF 2017.

h club>valencia is also available for private events

SPG members benefit from a 10% discount
Not a SPG member yet? Join now for free »

KOMORI RESTAURANT

Offering an exceptional dining experience based on Japanese-European fusion cuisine, Komori is the perfect setting to impress clients or simply indulge in fine food.

The stylish, modern interior focuses around the sushi bar where guests can sit at the marble counter and watch chefs preparing super-fresh sashimi and delicate sushi combinations. The bar area also includes a cozy corner for four.

Alternatively, guests can choose to dine at one of the tables dotted around the room, which are given an exotic touch by a selection of bespoke Japanese stoneware and plum-hued tablecloths. Maroon leather chairs add a touch of drama. The restaurant's two private dining rooms are ideal for celebrations or impressing business associates. One seats 8, the other 22, and both are perfect for more private special occasions.

Under the gastronomic guidance of famed chef Ricardo Sanz, Komori incorporates the finest Japanese culinary techniques in its enticing menu of freshly prepared sashimi, sushi, nigiri, maki and seaweed salads. Guests can choose between traditional Japanese dishes and the more adventurously styled Kabuki options which incorporate European ingredients such as aromatic black truffles and foie gras.

A range of enticing multi-course menus are perfect for groups or for those keen to embark on a gastronomic adventure.

THE GARDEN OF RENEWAL IN VALENCIA

The spectacular, 1,900-square-meter garden at the heart of The Westin Valencia encapsulates the essence of the hotel and the relaxed Mediterranean lifestyle it represents.

Planted with an abundance of exotic flora, including bay, olive, orange and lemon trees, flame-red callistemon, towering date palms and hundreds of flowering annuals, the garden also attracts numerous species of birds all year round.

Whether you've spent a day sightseeing or attending meetings, the fresh air and lush, natural beauty of the garden offers the perfect environment in which to clear your mind. Simply take a seat in the shade of the towering trees, relish the natural beauty of the surroundings - and unwind.

Alfresco dining in this calm, green oasis is a joy. Guests can tuck into Japanese delicacies from Komori or enjoy El Jardi Bar´s fine local Spanish fare seated amidst the aromatic botanicals. Afternoon tea is also served on the terrace of El Jardí Bar, while at night the h-club>valencia has a second bar set up under the stars serving drinks to the cosmopolitan clientele.